RAY DOTORATOS ~ GARY HAMMOND
Biographical Information
Below is a partial listing of previous
Dotoratos - Hammond concerts.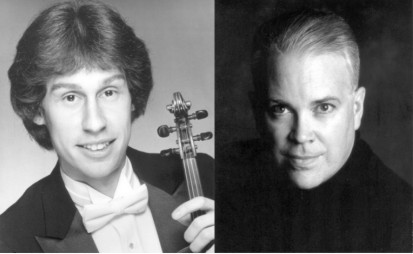 Concert Performances
* Carnegie Hall, NYC
* Lincoln Center, NYC
* Alice Tully Hall, NYC
* New York City's
Town Hall
* Performing Arts Center,
State Univeristy of
New York at Purchase
* Schoenburg Hall,
Los Angeles
* U.C.L.A.
* Meany Hall, Seattle
* Gardner Museum,
Boston
* The Ordway, St. Paul
* Princeton University
* Vanderbilt University
* University ofTennessee
at Knoxville
* Austin Peay State
University
* Asheville Chamber
Music Series
International Concerts
*Glazunov Hall,
St. Petersburg, Russia
* Hong Kong City Hall
* Academies
Internacionales du
Grand Nancy, France
* Hochschule, Germany
* Musiques en Mer,
Belarus, Italy
* Musikdager Festival,
Sweden
* Auditorio Nacional,
Costa Rica
Radio Performances
* National Public Radio
* WQXR-Radio station of
The New York Times
* WNYC
* WETS-FM
Classical Radio
* Radio 4 Hong Kong
---
Representation for
Ray Dotoratos and Gary Hammond:

ND Artists Management
New York, USA
Concert Bookings / Contact:
Jean Acheson, President
Tel. (914) 723-0960
E-Mail: NDartsmgt@msn.com


12047
Special Performances

* The White House,
Washington, D.C.

* Performance for
Lenwood Sloan,
Director of Funding
National Endowment
for the Arts,
Washington, D.C.

* Performance in
Nassau, Bahamas
for the Bahamian
government

Solo Orchestral

* Performed with
members of the
N.Y. Philharmonic

* Performed with
members of the
Chicago Symphony
Orchestra

* The Mozart Festival
Orchestra, NYC
Special performance
honoring famed
American composer
and music critic
Virgil Thomson for his
90th birthday
celebration

* The Juilliard Chamber
Orchestra

Recordings

* Altarus
* Naxos
* Partita

Musical Background

* Alumni of
The Juilliard School:
Dotoratos studied with
Galamian, Pardee.
Hammond studied with
Raieff, Hokanson, Stessin.